... but I promise you nothing but good luck if you play this jam out...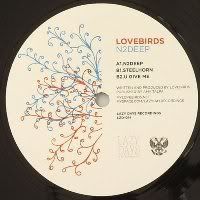 I seem to be getting hung up on names this week... and we have another one today that's not great. Lovebirds is a, and let's just be honest about it, pretty gay moniker of one Mr.
Sebastian Döring
, a dude about which there is very little info out there. Which is odd, because his Discogs resume looks pretty strong, with a good number of releases on some high quality labels. Maybe he wants to be all mysterious and shit. But really... being mysterious only works if anyone cares, so just get a Myspace or something, dude. It'll still be kind of mysterious.... no one ever looks at Myspace any more, anyway. Anyhoo, this one's out on Fred Everything's
Lazy Days Recordings
and is chock full of deep deepy deepness...

And just to be all on-the-nose about it...
Have a great weekend... IF YOU LIVE!!!!!