Got a very interesting tune for you on this, another House Music Friday...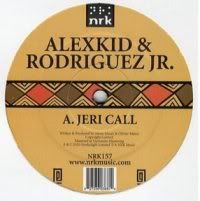 Okay, so what we have here is, courtesy of Frenchies
Alexkid
and
Rodriguez Jr.
is basically Arabic drones over a dirty, dirty house beat. It's kinda odd but it's also kinda fucking mesmerizing and under the right circumstances this would absolutely KILL a floor, in a good way. Under the wrong circumstances, it would probably kill it in a bad way, too. I've been a little too much of a pussy to play it out my last couple of gigs, but I personally am fuckin'
into
it. Give it a minute or three though, because this one takes its sweet damn time to get going...
Alexkid & Rodriguez Jr. - Jeri Call (ysi)

That bass is the kind that makes your teeth vibrate, innit? And I'll leave you with this rather amusing video of Rodriguez Jr. trying his hardest to keep a live outdoor set going in the rain...
I get by with a little help from my friends, true dat. Have a great weekend...