Today, I'm going to start off by giving the official Tonegents Stamp Of Approval to the new kid on the blog,
Sheblogsaboutmusic
. This good friend of mine knows her stuff and specializes in music you won't generally find here... music with geetars and whatnot. Pop on over, dig the crunchy grooves, bookmark, RSS, follow and love... I'll wait...
...
...
Okay, good. You've done the right thing. And as a reward, here's a special pre-release sneak peek from the mighty Ninja Tune...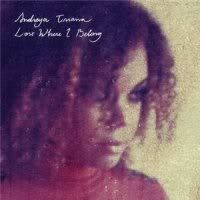 ... and I think it might be one of, if not the first, female vocalist to have a full-length released on the label, which I think is a pretty fair achievement considering Ninja Tune's storied history. And no, I'm not going to look that up. Get me an intern if you want this shit fact-checked. Anyhoo, the name is
Andreya Triana
, she first appeared on Bonobo's latest record (which you need) and get used to her... because if you like Morcheeba, Corinne Bailey Rae and other such goodness, you've just met your new favorite singer...

(DMCA'd. I will, of course, also remove the link to buy, because two can play the fuck you game.)
Hells yeah, I am diggin' that smokey voice. And the tunes, in an incredible coincidence... were produced by Bonobo. It pays to keep good company. Here she is singing with them...
So pissed I missed that show when it rolled into L.A. just after Coachella. Grrrr...