Considering
the way this week started out
, I guess it's only fitting that House Music Friday brings you the third members of the Trinity of Awesome (trademark pending)...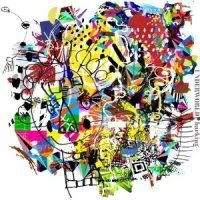 ... that threesome, of course, being Orbital, The Chemical Brothers and (oh shit, it's a brand new record from)
Underworld
. I shouldn't need to say anything about Karl & Rick, but I will mention that they did something different on
Barking
in that they got a little help from their friends, having collaborators on all of the tracks for the first time. On this one it was Mark Knight & D Ramirez of Toolroom Records, which is a name to know if you like your House on the bigger side. Still sounds like Underworld, though, i.e. HELLZ YEAH!
Underworld - Between Stars (ysi)

And with that, I send you off to your weekend. Have a good one... except for all you dirty hippies at Burning Man. Seriously, do you even realize what you smell like right now?