How's that for an obscure geek joke? So... did my boss nail it hosting the VMAs last night or what? Chelsea certainly made that show worth watching, as you sure as HELL weren't tuning in for the awful music. And if anyone disagrees with that, I have a Costco-size bag of dicks for them to eat... I'm looking in your direction Perez Hilton...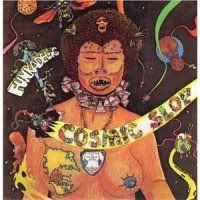 I shouldn't have to tell you anything about
Funkadelic
. I really shouldn't. You don't know a thing about Funk if you are unaware of the activities of Sir George Clinton and his merry band of funkateers. You should have your Funk pass taken away and be forced into a padded cell with Kenny G blaring at 1000 decibels until you claw your own ears out. Sorry if that sounds harsh... well, actually no. I'm not sorry. It's your punishment, so take it like a curly-haired, soprano sax in the side of the mouth playing man...
Funkadelic - Nappy Dugout (ysi)

By the way, if you don't know what a "nappy dugout" is... um, Google it. It's not a place where baseball players sleep, I'll tell you that! Boing! And then just look at this gang of madmen. How can you not be down?
That was a trick question. You can't not be down. You can be afraid. You can be verrrrry afraid. But still down...