Today, proof that the iTunes on shuffle can be very (perhaps maddenlingly, if you're expecting any certain kind of music to pop up on this blog on any given day) eclectic...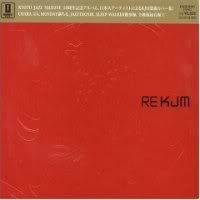 Yup, we're going from vintage electric blues to guitar and synth ambience, courtesy of one of the three discs of the most excellent
Kyoto Jazz Massive
10th anniversary collection. The
RE: KJM
disc features reworks of KJM tunes, and this one comes from a group called Aurora. Not the cheesy Euro-dance Aurora who recorded that Duran Duran cover, thankfully, but a Japanese combo consisting of
this guy
and
this guy
. And, um... well I don't have too much more to add, so just close your eyes, lean back and enjoy...

That's purdy...