Perfect music for a rainy day here...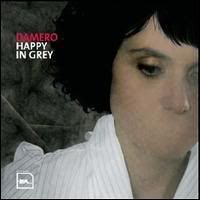 So this gal
Damero
, aka Marit Posch, is/was an employee at Ellen Allien's
Bpitch Control
label, a publicist, no less... who just happened to have years of classical training in voice and piano. Then she made some tunes and gave 'em to the boss, and Ellen was like, "Dang, this is good! I'm especially impressed with the singing, seeing as you have no mouth and all..." And I gotta say, I agree. That's a hell of a trick, that... I guess it's called talent! Plus, you gotta think that if this whole music thing doesn't work out, she'd be a kick-ass ventriloquist. But that might be a few years down the line, because the debut album,
Happy In Grey
, is real nice, kind of like a moodier Imogen Heap...

You gotta love girls who can make beats, even if they are weird, mouthless freaks... I'll bet Scott Bakula is down...