House Music Friday is taking you back to the heyday of the San Francisco underground...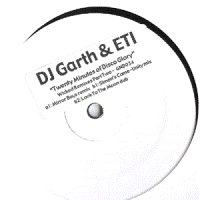 There are probably no parties in San Francisco lore as legendary as the
Wicked
parties. Garth, Jeno, Markie and Thomas were (well, actually still are) the names, and deep, dark, funky house was (and still is) the game. Not only did they throw the world famous Full Moon parties, but they would take the show on the road sometimes, and let me tell you, when Wicked came to L.A.,
everybody
would make sure to show up for that one. Of course, the guys would produce music of their own, songs that became bonafide West Coast anthems. One of the biggest was
Garth
and
E.T.I.
's "Twenty Minutes of Disco Glory", a track that got remixed about a billion different ways. So here's one of the better ones, courtesy of
Simon
of Come-Unity, another long-running party crew. This is the sound of Wicked, not so much "throw your hands in the air", but more of a tripped-out journey, which was how these guys rolled...
DJ Garth & ETI - Twenty Minutes Of Disco Glory (Simon's Come-Unity Mix) (ysi)

I'm gettin' a contact buzz from the memories, yo. Not to be a tosser, but damn, did you miss out if you weren't there, people. The Amazon link is for a Garth mix CD that features this track, because, well, you ain't findin' this record.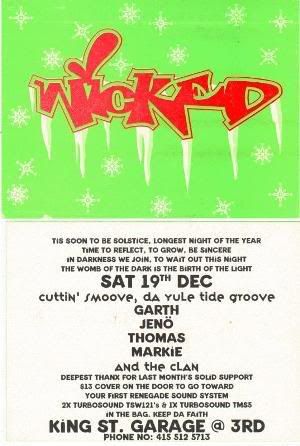 Peace out, have a fantastic weekend...