Goin' back in the day with an all-time great...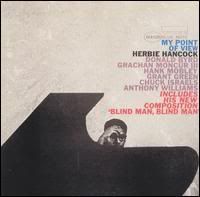 Today the shuffle landed on a track from zee legendary
Herbie Hancock
, from his second Blue Note album (from 1963, if you're scoring at home). As you can see from the cover art, we're talking all-star lineup, here, folks. All killa, no filla! Now, Herbie has certainly gone the way of the old man lately, crafting forgettable pop albums (I'll take a big ol' pass on the Joni Mitchell tribute, bro), but this'll remind you why he's considered one of the greats. Enjoy...
Herbie Hancock - And What If I Don't (ysi)

And this was just when he was starting out! Then he played with Miles, then he started Headhunters, then he recorded stuff like
Sextant
that predated Aphex Twin by oh, twenty years, and then he made "Rockit", and so on, and so on...
... and hey, why not...
Wik-Wik-Whaa... Wiki-wiki-whaaa...