Here's an act with a crappy name that is ironically composed of two people with cool names...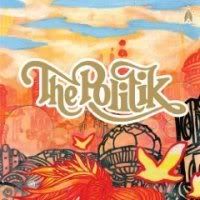 The Politik
is a collaborative project between producer
Mark De Clive-Lowe
and singer
Bembe Segue
, two fixtures of London's Broken Beat scene. That said, the record is more on a downtempo "future soul" vibe, and a lot of it is actually kinda weird, not that that's a bad thing. I'm kinda weird (as you well know), you're kinda weird (I can just tell) and weird stuff tends to be interesting, unless it's food. Then it just scares me. You wanna try this mango-infused jellyfish tort? Fuck and no! You keep that shit away from me,
Top Chef
wannabe! Anyhoo,
that
said, here's the one Broken Beat track on the album...
The Politik - Money (Don't Let It Catch Ya) (ysi)

... bonus points to me for the ripped-from-the-headlines song title. I am so on it like that. Anyhoo, if you haven't already, go to Mr. De Clive-Lowe's Myspace at that link up there. He's got two dj mixes and a whole live show available for download. See, someone's hip to this recession stuff! Givin' away free shit! We salute you, sir! Now make me a steak...