Well, Coachella gave us the ol' blue balls today, so we shall proceed as usual...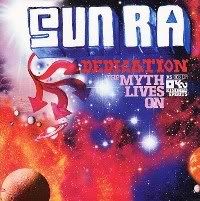 This one's a little different. I mean, it has to be... a house remix of free jazz? You got your House in my Free Jazz! You got your Free Jazz in my House! Dogs and cats, living together! Anyhoo, we got Detroit producer
Theo Parrish
, who's kinda hit-n-miss for me vs. bona fide nut job
Sun Ra
... who's kinda hit-n-miss for me. The result? Some nice background music. That's not a slam. You gotta have background music. Sometimes the ol' Drum & Bass is a little much when you just wanna sip some coffee and fuck around on Facebook, ya know?
Sun Ra - Saga Of Resistance (Theo Parrish Remix 1) (ysi)

This one's out on the
Kindred Spirits
label, which is one to watch these days. And now, back to waiting on that damn lineup...