Didn't watch the Golden Globes last night, but I'm glad that
Slumdog Millionaire
won. Go see that movie. It's good and stuff...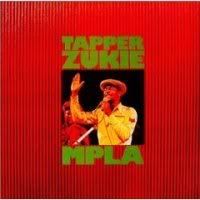 I guess what we have today is what you could call a precursor to Dancehall, some early Reggae/Dub toasting from the excellently named
Tapper Zukie
. You know, the more I think about it, the more I can see that name being a little raunchy. Think about it.

"Hey, that girl's cute."

"Yeah, man, I'd like to Tapper Zukie!"
And... that's it. That's the joke... the tune's better...

Actually I think I will blame today's substandard comedy on the fact that I'm seething with bile over
Andre Dawson
once again n
ot
getting voted into the Baseball Hall of Fame. It's a travesty... and as good an excuse as any...