I hate to use the phrase "slept on"... but here is a record from last year that was seriously slept on...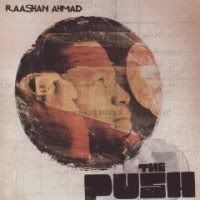 I would say that you would have to be more than a casual Hip-Hop fan to know the name
Raashan Ahmad
. I even own the record of his main project,
Crown City Rockers
, and I didn't know the name. I don't like getting my music bogged down with stupid things like "details". I'm pretty sure anyone who reads this blog regularly can attest to that. But I picked up this Bay Area cat's solo joint based on a friendly recommendation... and the name Raashan Ahmad will no longer be forgotten. This is one of the best Hip-Hop records of '08, maybe even as good as
The Renaissance
... I know, crazy talk... but it's definitely in the conversation. Listen to this and tell me I'm wrong...

That song is amazing, no? I think that vocal hook is sampled... major love to anyone who can tell me the source...
And tomorrow's a big day here at Tonegents... the Coachella lineup will be announced and we will begin our yearly slog through it. Stay tuned!