... grilled up rare and smothered in robot sauce!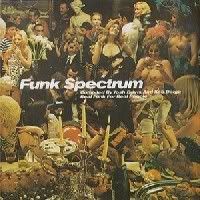 UK record label
BBE Music
puts out a lot of damn fine compilations of rare vintage tunes, and their
Funk Spectrum
series is seriously unfuckwiddable. The series is curated by legendary UK DJ
Keb Darge
, who brings in a different famous crate-digger to help with each one. For instance, on this first release, his partner in crime was none other than DJ Shadow. So yeah, all killer/no filler! Now, as for today's track, I certainly don't know anything about it, but why pretend I have the knowledge when I can just steal a write-up from teh interwebs? Thanks, Al Gore!
"As funk 45s go, this is also one of the rarest and most obscure of them all - only 500 copies were pressed on a tiny Milwaukee-based rock label, making them notoriously difficult to find, so much so that you'd have to fork out over $1000 to get your hands on an original!

Like many groups The Chefs were inspired by the early '70s robot craze, and "Mr Machine" is one of the best examples of the tight, rhythmical funk that was the "in" sound. In music we all know that "practice makes perfect" - brothers Don & Fred had been practising drums and bass together since they were old enough to walk, the result is one of the tightest rhythm sections ever to be caught on wax! And as for the psychedelic guitar twangs that make the track, can you imagine a wilder sound to blow your mind?! This is a funk 45 that has everything you want: hard heavy deep funk for the listener, dancer, collector, everyone!"
Well, that write-up sounds pretty good, eh? Does the track live up to it? I vote yes...

Funk + Robots = Werd!
(that's a
real product
, btw... I think I need one...)