One of my all-time favorites today...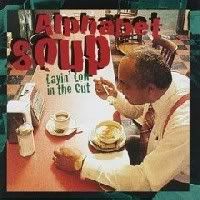 Alphabet Soup
are straight-up legends in the Bay Area, and the only live hip-hop band I've ever seen that can come within shouting distance of The Roots. I actually came to know of them completely randomly, though. At the time I was living in Marin County, and one night a bunch of the folks that I worked with at a movie theater decided to go out together. After a harrowing 100mph drive down the twisty part of the 101 to the Golden Gate (thanks to my insane friend Puckett), we ended up at this relatively nondescript club on one of the piers, and the Soup just happened to be the evening's entertainment. I was blown away, and probably went and saw them once a month for the remaining time I lived up there as they gigged constantly. This is the only album they've put out in any kind of wide release (as far as I know), and why they never picked up any kind of following outside of Cali is a mystery to me, especially since the Acid Jazz thing was so big in the early '90s, as was the jazzy hip-hop like Tribe and Digables. I'm so stoked to see that they are apparently still out there doing it and even have an active Myspace page. Made my day. Enjoy...

You can cop the record for a measly buck on Amazon. It'll be the best buck ya ever spent.
Peace. Have a great weekend.