Since I mentioned 'em yesterday...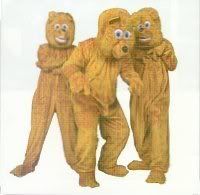 ... , might as well give
Crazy Penis
(now known as Crazy P, sellouts!) some shine. These guys have been making super happy fun time house and breaks for a decade now, and even roll with a live band these days... come play in L.A. dammit! You can get the idea from the cover and title of their first album,
A Nice Hot Bath With...
, of the sense of humor that these guys bring to their music as well. You gotta love any song that samples Statler and Waldorf, the two grouchy hecklers in the balcony from
The Muppet Show
...
Crazy Penis - A Little Something
This record is unfortunately out of print, but can be purchased in digital form from the awesome
Paper Recordings online shop
. Go get it...
And here's a great YouTubes montage of Statler and Waldorf in action...
Sure I'm dating myself, but I grew up on that shit! Classic!