That post title will make sense in a minute. Trust me. In the meantime, I got a big fat epic track for ya today...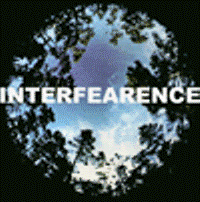 Interfearence
was a project of London-based producers Steve Tyrell and Paul Martin. Now, I'm the kind of guy who likes to write my blog myself, not just steal bios from elsewhere, but for some reason I love the write-up Tyrell has about Interfearence on his myspace...
"Interfearence are/were Paul Martin (ex Talkin' Loud A&R supremo) and myself; we made two albums (Interfearence, ffrr 1999 and Take That Train, Ubiquity 2001) which received much critical acclaim and almost no sales. Oh well, it's better to be cool and unknown than a famous sell-out, isn't it? Isn't it?! Perhaps not then. Anyway, it was always about the music and I stand by it. Our single 'All Day' was included on the 'Human Traffic' soundtrack and can be heard in the background of the film during the scene in the kitchen at the after party when they're talking about Yoda and Darth Vader. Classic. We were also responsible for the theme song and background music for the TV show CD:UK which ran for over 7 years every Saturday morning on ITV in the UK. Believe it or not, I am the voice that whispered 'C...D...U...K...'. Not so 'classic'."
I dunno, just love the Brits' way with words sometimes. Anyhoo, Interfearence really specialized in atmospheric breaks, and I've really never heard anything else in that style quite up to the level of what these guys put out. This record is one of my all-time faves and it's hard as hell to find... so enjoy!
Interfearence - Wonderland (ysi)

Essential. Yes, even despite the lyrics. Don't think I don't realize. I just don't care much about lyrical content. I'm one of
those
people. :P