I know Friday has been proclaimed House music day around here, but since I already posted a House song this week...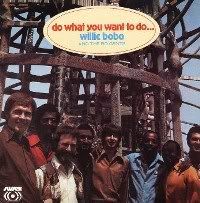 ... let's roll into the weekend with some Latin Funk hotness, courtesy of the great percussionist and cool-name-havin' dude
Willie Bobo
... because this will make you move that butt, too, folks. Plus Willie gets extra cool points for his son playing drums with Cypress Hill's live band now, and the younger Bobo has been known to take a four-foot bong out on stage and blaze up whilst playing. Sweet. Anyhoo, here is the title track from
Do What You Want To Do
, from 1971 (yeah, like I didn't have to look that up :P )...
Willie Bobo & The Bo-Gents - Do What You Want To Do (ysi)

So take that, head out to Happy Hour for some chips and salsa and five or six Margaritas... hmmm, I suppose that would be more appropriate if I had posted some Mariachi music... whatevs, sue me... and have a great weekend!