I kind of like Friday being House music day around here, so here's some hot wax straight off the 12"...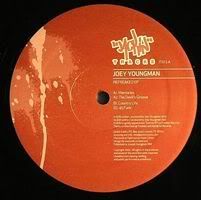 Don't know anything much about this
Joey Youngman
fellow, except that his name is extremely nerdy and he makes some of the nicest in-the-pocket Deep House that I've heard in a while. Check out this jammy from the
Refreaked EP
...
Yup, that's the stuff that makes you a trainspotter right there. Pick it up at
Juno
. It's a 4-tracker and they're all hot. Then, after you do that, have a great weekend. Peace.