A new take on an old standard today...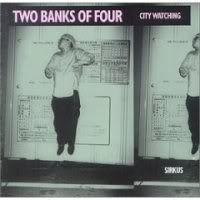 I guess that would be called a cover version, no? But you never hear that term used in jazz, do ya? I suspect that is because people who write about jazz tend to be a bit fancy, read: snobbish twats. It's always a "reading" or an "interpretation" or some other such foofery. Look, this isn't a freshman poetry class, it's a record, ya ponce! A cover is a cover, and today, British act
Two Banks Of Four
delivers a ramped up, sorta Drum & Bass
cover
of the famous Mongo Santamaria composition - and I felt compelled to mention that because Mongo Santamaria might be the best name ever possessed by a human being - that was made most famous by Mr. Coltrane...

Don't have the CD with me right now, or else I'd be able to be useful and tell you who those nice vocals are by... eh, pick up a copy and find out yerself! :P