Here's some more of that scary Rock music that has the kids all misbehavin' these days...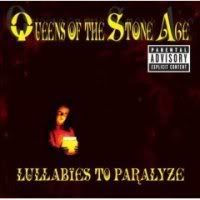 ... because while we all prefer the beats and the jazz and the general funkiness, you gotta stay well rounded. I've always said that if you can't appreciate all kinds of music, then you really don't like music. Deep, huh? Anyhoo, I've never been a huge fan of
Queens Of The Stone Age
, but more and more they're growing on me a little, and I actually dig this record quite a bit. Got it on the cheap just to check it out after hearing a song I liked on some sampler left under my windshield wiper at Coachella. Yep, that's how I roll. This ain't one of their heavy ones, but you probably coulda figured that...
Queens Of The Stone Age - I Never Came (ysi)

So, is that one of their bigger tunes? I honestly have no idea... that's how little I rock. But a good song is a good song... so suck on that!