In which I trumpet a very obscure band that I was into when I was in college (cough cough) years ago...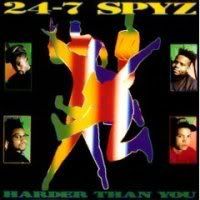 ... and that band would be
24/7 Spyz
. "Howmany whatsnow?", you say. Well, I'll tell you. They were a black Rock band from New York, back in the era when black Rock bands were maybe going to be the next big thing... which never really happened despite the success of Living Colour and Fishbone. But these bands definitely did pave the way for far less talented white people to mix Rock & Rap & Funk in ways that horrify music fans to this very day. So, um... thanks a bunch for that, fellas. Anyhoo, the Spyz were a fantastic mix of all of the above plus some Reggae, too, kind of like a funkier Bad Brains, or a black Red Hot Chili Peppers. They coulda shoulda been huge, but constant line-up turnover and record label stupidity kept 'em from the big time. And while this isn't your typical Tonegent selection, I do love this album. So here's a happy little ditty about a bunch of people getting killed the failed 1987 attempt to have free elections in Haiti... so yes, a feel-good tune...
24/7 Spyz - Ballots Not Bullets (ysi)

The Spyz (I always want to pronounce that "spizz" for some reason. But hey, give your band a dumb name...) also had a really good song about the Exxon Valdez disaster. No, really. So suck on that, Zach De La Rocha...