Hey, look! It's Monday again already! Ain't that grand?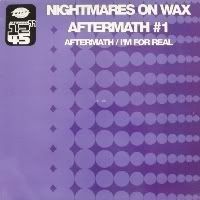 This week the shuffle picked out an interesting one to start us out with. Interesting in that we don't get a whole lot of Old Skool Rave choons around here. And yeah, Old Skool Rave sounds sooooo dated any more, with some notable exceptions, of course... and here's... well, this one sounds dated, too, but not nearly as much as some. And it's from an unlikely source...
Nightmares On Wax
! What the fu-heck? Turns out that Ease tried his hand at some warehouse Techno before he started smoking all that weed and producing his famous blunted beats. So yeah, any kind of music can sound good when it's made by folks who are good at music... knawhutimean? So get ready for 1990, bitches! Huge bass on this one and skittering beats that would be similar to some proper 'Ardcore if they were only a bit 'arder...
Nightmares On Wax - Aftermath (ysi)

So there's a bit of an artifact of past days for ya... and you
know
you were in the warehouse going off to this shit some late night many years ago (well, if you're as ancient as me, you were), so don't even front...