Here's one I just recently heard about, scurried out to acquire and was not disappointed by...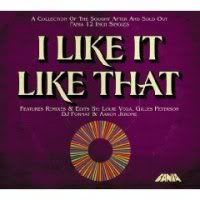 Don't let the cheapo cover art fool you, this new compilation of remixes of classics from the mighty Salsa label
Fania Records
is teh hotness! I've been on a Salsa kick lately, both for the music and the delicious condiment... and while I get my tasty salsa from a nice lady at the farmer's market, I get my Salsa music from Fania. So naturally when I found out about this comp and saw names like Louie Vega, Quantic, Nicola Conte and, of course, the object of my completely heterosexual man-love Gilles Peterson on the remix duties, I had to have it. Check out this one, as Salsa legends
Willie Colon
and
Ruben Blades
get their beats broke by
Bugz In The Attic
...
Willie Colon & Ruben Blades - Plastico (Bugz In The Attic Mix) (ysi)

That is hot like a habanero, if may be allowed to continue to beat the food metaphor into the ground for a bit longer... and did I mention this comes with a second CD of all the originals? Well, it does... so bonus points... or should I say, "that makes it extra spicy"? What's that? I shouldn't? Yeah, you're probably right about that...