Starting off our big week with a big tune...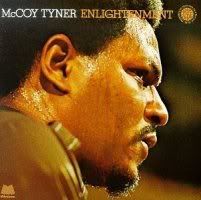 ... I've
already told you
what I think about
McCoy Tyner
. You can go back and read that sparkling piece of writing or I can give you the short version now... he rules. This album was a live recording of his 1973 set at the Montreaux Jazz Festival, and it is an intense set to say the least. These guys are workin' hard for the money... check out the breakneck pace and wild percussion of this little number...

And here's a Youtubes from a year later... different group, same intensity... just check out McCoy bangin' those keys in the beginning... he's smackin' 'em around like they said somethin' 'bout his mama... It doesn't seem to matter if he's soloing or just playing rhythm, he just dominates any tune he plays on... in a good way...
No "smooth jazz" there. McCoy would probably snap Kenny G's skinny little neck in a second. And I think I'd pay to see it. Anyhoo, I think you should run out and buy all of McCoy Tyner's albums... there's only like 80 of 'em... no problem, right? :P