In case you were wondering, the "X" this year is not because Blog-achella has renounced it's slave name, but rather because this is the 10th Coachella festival. Last year was the 10th
year
anniversary, but they skipped a year, remember... "AHA!", you says. Aha indeed...
Today, we are going to skip the extremely wanky
As Tall As Lions
from Long Island because they're a bunch of wankers. Wanky band name, wanky music and OMFG-That's-Wanky black and white "Rattle & Hum" style video that plays as soon as you click to their website. Oooh, we're in black and white 'cuz we're serious and shit. Oooh, we don't like our producer or our record label 'cuz they're holdin' us back, man. Oooh, we have big stuffed chairs in the recording studio because we're like fuckin' bohemian like that. Wankers. Go wank off and get arrested for it...
Also not getting a full post will be Aussie singer/songwriter gal
Kate Miller-Heidke
, who's wanky in a completely different way. An extremely "quirky" and "precious" way. Barf...
Which brings us to...
Wale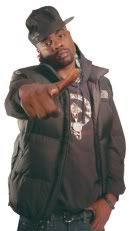 Who he is:
Mr. Olubowale Victor Akintimehin, a.k.a. living proof that sometimes having a stage name is quite necessary.
What he sounds like:
Have not heard much of Wale's stuff except for his
Seinfeld
-sampling
A Mixtape About Nothing
, which may not be an "official" release (because he would owe Jerry Seinfeld all of his money and most of his internal organs from licensing fees), but it is officially dope. See what I did there? Bam...
This mixtape is and always has been a free download... so
go get you some!
What I think:
Coachella continues to not have a hell of a lot of Hip-Hop this year (again), so if you like the beats and rhymes you're probably gonna go see this...
Which, ya know, a bit shouty... but then it's a Hip-Hop show and they can't all be The Roots, ya dig?