Battling through a stupid fucking virus to bring you your post today. Anybody ever have this Antivirus Live shit pop up on their shit? Annoying as fuck, I'll tell you what. Why can't my work use Macs? WHY?!?!?!?!
Okay, let's start the day with a couple acts who don't suck nearly as much as this virus, but still kinda suck...
First we have a band called
Hockey
, which is a pretty stupid thing to call your band if you want people to be able to Google you. However, while looking for their website I was able to catch up on the latest
Don Cherry
shenanigans. Love that batshit-crazy old bastard. Anyhoo, they're a rock/dance-yaddayadda-dime-a-dozen-these-days kinda outfit. Not horrible but I'm not going to encourage them, because enough already....
Then we get
Baroness
, who are totally metal... but I'm not. So too bad for them. Which brings us to our first repeat performer of the year...
P.O.S.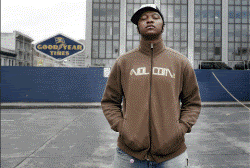 Who he is:
A representative of the Rhymesayers crew from Minneapolis... I do not know his position on Bret Favre, however, so don't ask. (My position, btw... I have no problem with the guy... HE'S JUST A GUN SLINGER! LOOKIT HOW MUCH FUN BRITTFARRR HAS ON THE FOOTBALL FIELD! HE'S LIKE A LITTLE KID OUT THERE! Hmmm... you know what? I take that back. Fuck Brett Favre. Fuck him right in the dick.)
What he sounds like:
Dude also has a Punk band, so you will find your Rap spiced with guitars and singing. But this turns out to not be a bad thing at all...
P.O.S. - Low Light Low Life (ysi)

What I think:
I have been repping this album as one of the top Hip-Hop releases of 2009 for a while now, so count me as down. Now enjoy this YouTubes, particularly the Lindsay Lohan doppleganger in the blue...
I had no idea Sam Ronson did P.O.S.' beats...