Well it is a damn shitty day here in La-la land... it's raining cats, dogs and the occasional wildebeest. Which has nothing to do with this song...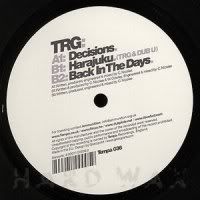 You don't hear about a whole lot of music coming out of Romania, but perhaps the dude known as
TRG
is here to change that. Well probably not, but it's a damn fine dubstep record he's put out here... absolute monster bass on this one...

Dude's got a nice blog, too, if you click on that link up there. The Coachella lineup may come out tomorrow, btw...