And now a return visit from an act we haven't heard from around here in almost 2 years. This is noteworthy because in the time I've taken to type these two short sentences, Gorilla Vs. Bear has put up 13 posts on Animal Collective...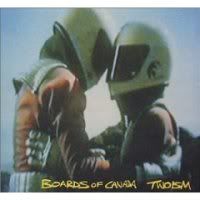 It's an annual occurrence in these parts... a rite of the early winter if you will... they take to the Coachella message boards and scream, scream... scream for
Boards Of Canada
! And every year it proves as futile an undertaking as trying to find a laugh in Dane Cook's act or a brain cell in any Kardashian's head. But still they do it... and I don't hate, because if it ever happens I am ALL. OVER. THAT. SHIT...
Boards Of Canada - Sixtyniner (ysi)

"Sixtyniner"... tee hee... tee hee hee... tee hee hee... tee hee...
(three hours later)
tee hee hee... tee hee... phew...