In which I quite possibly piss off Plasticgod
Who they are: With Headquartes located in Lyon, France,
Interpol is the world's largest international police organization, with 186 member countries. Created in 1923, it facilitates cross-border police co-operation, and supports and assists all organizations, authorities and services whose mission is to prevent or combat international crime.
Interpol aims to facilitate international police co-operation even where diplomatic relations do not exist between particular countries. Action is taken within the limits of existing laws in different countries and in the spirit of the Universal Declaration of Human Rights. Interpol's constitution prohibits 'any intervention or activities of a political, military, religious or racial character.'
What they sound like: Look, it's not like I so much hate their music... they're an okay band. I just hate everything else about them. Especially Carlos "I wanna be a" D.-J. I've seen better wedding DJs. Go get hit by a bus, poser. And get a hair cut before you do, you Crispin Glover wanna-be look-alike.
What I think: Fuck Interpol :P
-----------------------------------------------------------------------------------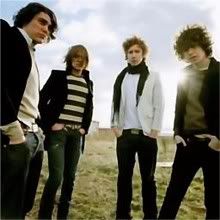 Who they are: A band from Brighton, UK. I've actually been there. Right on the English Channel. Neat place, and site of Fatboy's Slim's famous Big Beach Boutique parties.
What they sound like: Pretty much straight-ahead rock. Hooky, catchy stuff.
What I think: Kinda "meh", but sometimes these bands do surprise by putting on a fun, enthusiastic show. I remember Razorlight a couple of years ago. Never heard of 'em, wouldn't think twice about seeing 'em if I had... but ended up at their set and enjoyed it very much because they were great performers and really got the crowd into it...
Have a fantastic weekend!