After a year and a half and over five hundred posts, I'm happy to say I finally got my first DMCA notice! And by happy, I mean enraged... Actually got two in one day yesterday... one apparently from Ludacris' people for posting "Area Codes" and one having something to do with the sample source mix I posted last month. Pretty lame. Instead of just requesting I remove the links, Blogger actually went in and deleted my posts without warning, the fuckwaffles. I would have been happy to take the songs down, you know... but nothing enrages a Virgo more that having the completeness of my blog fucked with. So now I have to do what any real gangsta like myself would do and start beef with Ludacris... so... Ludacris, you can eat a syphilitic dick on a moldy French roll smothered in ass relish, punk. I don't know why your little bitch-ass has to mess with my blog when I even provided a link for the readers to go buy your shitty album... how come it's the artists who are already rich that fuck with bloggers? Much better musicians than you see blogs as what they are... good publicity! But you're to stupid to see that, so maybe you should just go get run over by a Hyundai on dubs after being ass-raped by Clay Aiken. Oh, and it's "mouth", dipshit... not "mouf". English! Learn it! Bam! Anyhoo, now how 'bout some mellow sounds to calm my seething bile...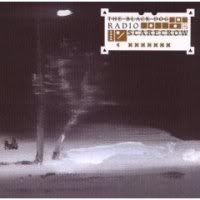 ... and those sounds come from the latest iteration of
The Black Dog
, which consists of the one original member who is
not
in Plaid and a couple of other guys. And after that rant up there, you've probably heard enough from me today, so let's just get to it...
The Black Dog - Train By The Autobahn (Part 1) (ysi)

Really good album, goes from ambience like that right up to some dancefloor-tempo numbers... not exactly what you might expect from The Black Dog, but I guess it's called evolution, homes...