Hello all... today I present to you the new frontrunner for "Album Of The Year According To Me So Suck On That"...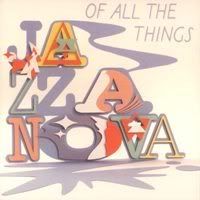 ... and that would be the new record by the mighty
Jazzanova
. It's been years since their last original full-length, and I gotta tell ya, them Schnitzengruben-eatin' Germans are a sneaky bunch, because I had no idea this was coming out 'til I had it in my hands. But the Germans are like that sometimes... just ask Poland. (Sorry, German readers, the joke was there) And it is fucking amazing. That's all you need to know. This is the sound of 21st Century soul music, and it's not brought to you by people with names like Marvin, Aretha and Stevie, but rather by people with names like Jurgen, Claas and Axel. Deal with it...
Jazzanova - I Can See (ft. Ben Westbeech) (ysi)

Two words, fuck and yes. That is all for today, we now return you "General Hospital", already in progress...