When it comes to jumping on bandwagons, I say better late than never...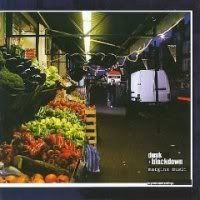 I'll save you the eyestrain of trying to read that album cover and tell you that today's track comes from the new record by British Dubstep producers
Dusk + Blackdown
called
Margins Music
. And I guess here's where I cop that I am now officially into Dubstep. I'm pretty sure that if I lived in London, that would be soooo last week of me, but hey... I've now heard enough good Dubstep to put the Tonegent stamp of approval on the genre. It may not be as righteous as the
Good Housekeeping
stamp of approval, but a stamp it is, nonetheless. This record's a winner because it mixes in a lot different sounds... some of it is dark and plodding, some of it uses Asian Vibes, some of it goes into Grime/Hip-Hop territory, and some of it, like this track, is more in the bouncy UK Garage vein...
Dusk + Blackdown - Focus (ysi)

Now, speaking of veins... nah, just kidding. There's not really anywhere good you can go after "speaking of veins", is there now?