Today, Tonegents Musical Interwebs Corner and Savings & Loan (I just bought all of Comerica's assets for 50 cents and a pack of Marlboro Smooths) is proud to bring you one of the greatest songs ever recorded... and if you disagree with that, I will fight you...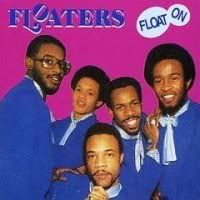 I'm talking about the one and only hit of
The Floaters
. And I don't really need to say much about it. The genius of this song is in the lyrics, and I believe I will let them speak for themselves. So grab a comfortable chair, sit back and "Let me show you how sweet it could be / Sharing your love with Larry"...

Yep, they don't make songs like that anymore, folks... for shame! If you click the Amazon link, you'll notice it takes you to a very expensive box set. Pony up the dough, it's worth it! I got it at a silent auction at some charity event and it was the best 60 bucks I've ever spent... I have DJ'd entire gigs with nothing but those six discs... unfortunately, they were Drum & Bass gigs, and I was fired and then beaten, but whatevs...