Since I know you've all been counting along and marking the walls of your cells accordingly, I shouldn't have to tell you that this is post #250 at Tonegents. Huzzah! Now, I was going to whip you up a nice, tasty house mix to mark the milestone (it is also House Music Friday, after all), but one of my decks is knackered and last night I realized I have completely forgotten how to use Ableton Live, so... stay tuned for that... just gotta RTFM, knawhutimean? So anyhoo...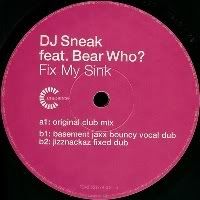 You'll just have to settle for a tune from the ugliest man in House Music,
DJ Sneak
. Trust me, if you've ever seen a picture of the guy (I'll spare you), you'll realize that I'm not even being mean when I say that... it's just a fact. Dude's grill is just unfortunate, yo! But lucky for him House Music ain't a beauty contest. Here's probably his best known track, and I'll tell you a little secret... (whispers)
it's not really her sink he's fixing, wink wink
...
DJ Sneak ft. Bear Who? - Fix My Sink (ysi)

You can find this one (in edited form) on an album called
Housekeeping
, but I have directed you straight to the vinyl, 'cuz that's how I roll...
And speaking of housekeeping, the ol' Box account is finally just about full, so it's time to dump some stuff. The tracks from
the April archives
will have to go bye-bye this weekend, so if you've never been arsed to check that far back, now would be a good time. Tunes from Plantlife, Ben Westbeech, Cornershop and even Fishbone await, just to name a few... have at 'em, and have a great weekend!