And for your first Jazz track of 2008, I present an artist with a very typical story... an American-born, Muslim-converted ex-pat who lived and recorded in Sweden and Norway... dime a dozen, really...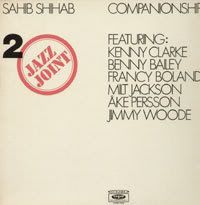 Although he was born Eddie Gregory, sax/flute man
Sahib Shihab
got down with Allah and made his name way more confusing. Then he was all like "screw these racist white people in America" and moved to Scandinavia. Or at least that's what he'd like you to believe. We all know how hot the Scandinavian women are, so don't front with the whole "oppressed brother" story, dude. You wanted some of that Swedish Bikini Team action... and trust me, no one is gonna judge you for that!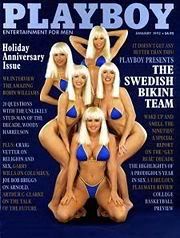 "Ya, we dig the Jazz!"
But, um, yeah... dude was a very accomplished player before the move, recording with Monk and Coltrane and some of the other heavy hitters, and recorded a number of highly-saught-after sessions in Europe.
Companionship
is a 2-album beast of a record, and it kicks off with this huge number right here, with Shihab rockin' some bugged-out Jazz flute, lots of serious percussion, and even some chanting...
Sahib Shihab - Om Mani Padme Hum (ysi)
Fantastic stuff, and unfortunately out of print, although I did find a nice compilation for you to peep at
Dusty Groove
. Pick it up and brace for the Nordic love!