Today, the first team-up of now well-known Electronic music Superfriends...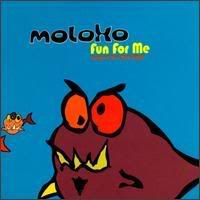 Singer
Roisin Murphy
and mad scientist
Matthew Herbert
have teamed up many times over the years, with the partnership culminating in Roisin's most excellent
Ruby Blue
album (get a taste of that
here
). But here is what must be their first work together, Matthew's remix (under his Doctor Rockit moniker) of Roisin's band
Moloko
's first single. This one falls under the "Completely unrecognizable but for little vocal snippets from the original" school of remixes, and I'm okay with that. While the original "Fun For Me" was an uptempo electro-funk bomb, this is a head-nodding downtempo version...
Moloko - Fun For Me (Doctor Rockit Remix) (ysi)

... which is better than putting out a remix of a single that only gives you the same song with 8 slightly different house beats... I hate that!
And here's the video for the single, just so's you can see what I'm talking about...
Roisin looked hot with that dark hair, eh?