Yesterday I offered proof that real Jazz is alive and well... and today I have proof that real Funk is, too!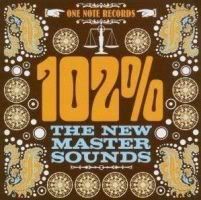 I'm talkin' real, old-school, down and dirty, raw as fuck, stinky-ass, gutbucket funk that sounds like it came off some old 45 you found at a garage sale. They're calling it the Deep Funk scene, and I guess I'm okay with that label, it's relatively accurate... and it's headed up by bands like The Bamboos, The Heliocentrics, Orgone, and the UK's
The New Mastersounds
, just to name a few (and there are plenty more to name). And, um... well, I guess I already described the sound in the first sentence up there, so let's just get straight to the tune...
The New Mastersounds - 102 Percent (ysi)

Yes, yes and hell yes. That's so good, you get some YouTubes, too...
All day, folks... all day...