Ok, so I'll spare you the "I Have A Dream" samples on MLK day...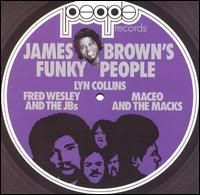 ... but the shuffle did land on a song from the era, how apropos!
Fred Wesley & The J.B.'s
were, of course, James Brown's backing band during the funkiest years of his career, so I shouldn't need to say any more. Because if ya don't know anything about James Brown, you're obviously in a coma and have been for a very long time, so you're probably not reading this blog, what with you being all comatose and stuff. For everyone else out there, though, here's a cut from Vol. 1 (of 3) of the
James Brown's Funky People
series, put out on Jame's own People Records, which is where his backing players got to step off and do their own thing....
Fred Wesley & The J.B.'s - Same Beat (Part 1) (ysi)

Some of the most essential funk cuts ever on these comps. And now for some essential words...
Peace.