GIANTS WIN!!! GIANTS WIN!!! THEY SHOCKED THE WORLD!!! SUCK IT, PATS FANS!!! SUCK IT HARD!!!
Okay, now that I've got that out of my system...
... here's some really nice downtempo from the defunct Nuphonic label, which I've mentioned around here before. Again, there's not a lot of information out there about
Fug
, especially not on why some folks would choose such a crap-tastic name for their band. But that aside, this extremely overlooked record goes toe-to-toe with anything by Zero 7 or Morcheeba and holds its own quite nicely...

... but seriously though, can you believe that 3rd & 15 play where Eli got away from three guys who had him by the shirt, lofts it up there, and Tyree caught it with his freakin HEAD!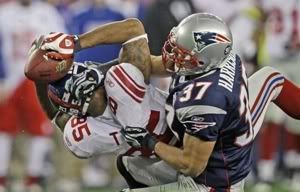 Ho. Lee. Shit.
And yes, I know many of you have no idea what I'm talking about... just bear with me here...